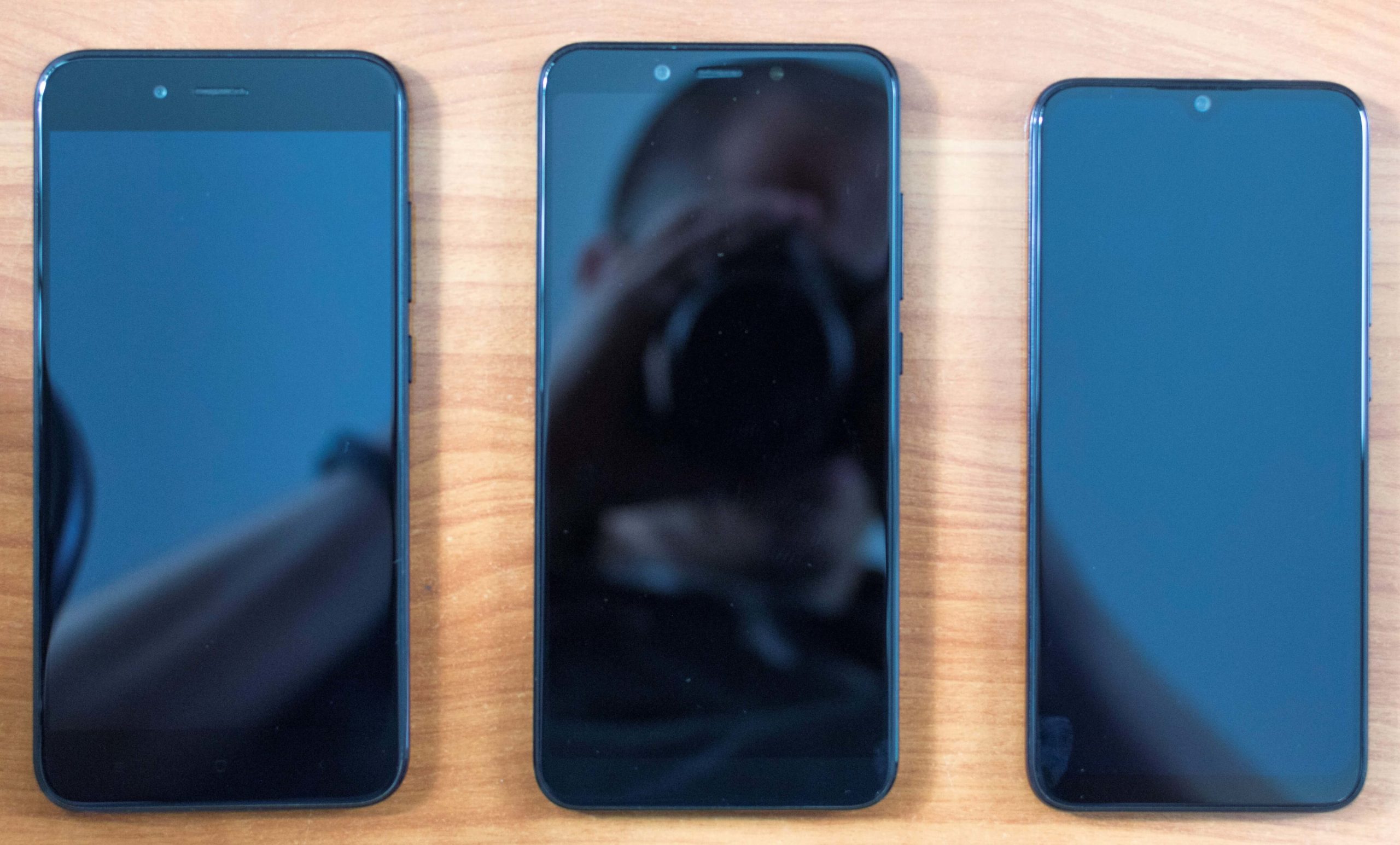 Since the moment I started using Android, I fell in love with it. I was particularly interested in stock Android, and before I decided to get my first Nexus device, the Pixel series was introduced. As I didn't want to spend a lot of money, I thought that my stock Android experience would be postponed for a couple of years.

This is when the Xiaomi Mi A series was introduced. It immediately got my attention as it offered all that I ever wanted from a smartphone at quite a reasonable price. My first stock Android phone was the Xiaomi Mi A1, my brother got a Mi A2 and once the Mi A3 was out, I decided to pick it up despite all the negative reviews it got. 

In this text, I am going to compare the three as I was in contact with all of the three devices during the last three years. Before I go on, here's a table with all the basic specs.

| | | | |
| --- | --- | --- | --- |
| Xiaomi Mi A Series Comparison | Mi A1 | Mi A2 | Mi A3 |
| Screen Type and Size | LTPS IPS LCD 5.5 inches | LTPS IPS LCD 5.99 inches | Super AMOLED 6.09 inches |
| Camera | Dual 12 MP, Front 5 MP | Dual 12 MP and 20 MP, Front 20 MP | Triple 48 MP, 8 MP, 2 MP, Front 32 MP |
| CPU | Snapdragon 625 | Snapdragon 660 | Snapdragon 665 |
| GPU | Adreno 506 | Adreno 512 | Adreno 610 |
| Storage and RAM | 64GB/4GB RAM | 32GB/4GB RAM,64GB/4GB RAM, 128GB/6GB RAM | 64GB/4GB RAM, 128GB/4GB RAM, 128GB/6GB RAM |
| Battery Size | 3080 mAh | 3000 mAh | 4030 mAh |
Xiaomi Mi A Series Design
Xiaomi is not known for being unique with its designs, especially when it comes to their Mi A series of smartphones. The Mi A1 and Mi A2 borrow heavily from the iPhone design, I guess the company's wanted to show the world that it is possible to make a similar device for the fraction of the price.

The A1 also relied on capacitive buttons for navigation. This left the whole 1080p 5.5-inch display real estate to the user. I liked the device size especially when I enjoy YouTube content. The back of the device featured a quick fingerprint scanner. Overall, the design was ok for 2017.

When I first got a look at the Mi A2, I liked its design. It was quite similar to the previous model, only like a bigger version without capacitive buttons under its screen. This was quite a refresh to the series, with an improved screen to body ratio. Even though it was a bit bigger device, it also packed an almost 6-inch display.

Things changed quite a lot with the Mi A3. The third iteration received quite a big design change. While the previous displays were regular, this one featured teardrop at the top. The back of the device was glass now and the material used for the frame was plastic, while it was aluminum on the Mi A1 and Mi A2 models.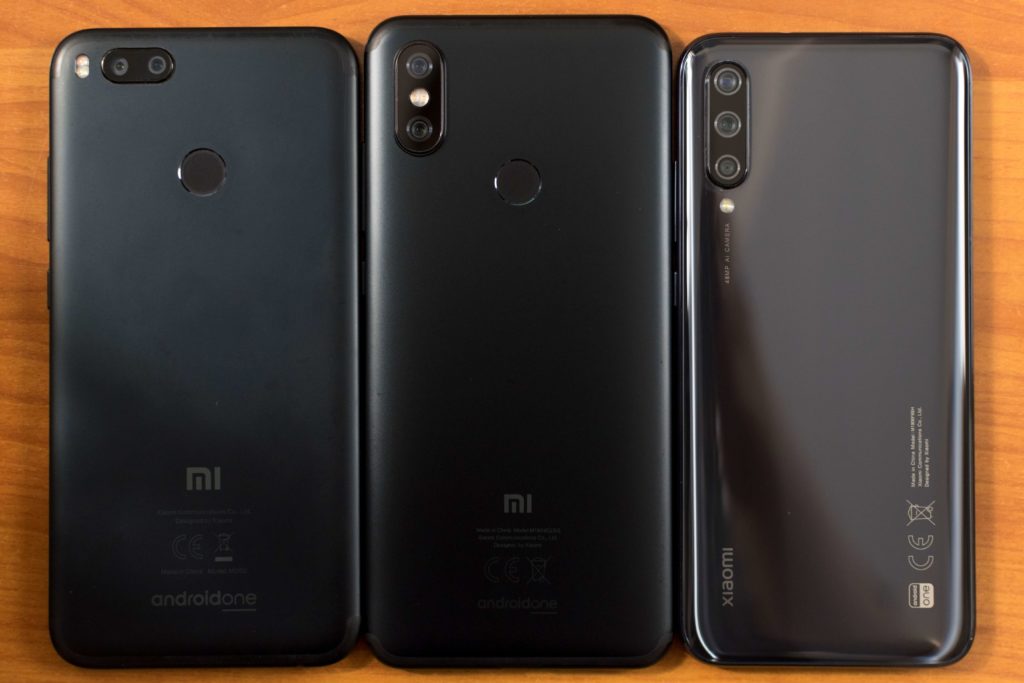 These changes made the device look more modern, as it now featured much slimmer bezels on the top and the sides of the device. Mi A3 now features a 6.09 in a much smaller device footprint. Design-wise, the lineup has definitely received an improvement. Also, the fingerprint scanner is not built into the screen.
Screen Evolution
The screen is where Xiaomi has decided to make a big change that caused a lot of rage with many users. To help you get a better idea, I will shortly mention the screen specs of all the three models.

Mi A1 one featured a 5.5 inch IPS display with a resolution of 1080×1920 and a regular 16:9 ratio. The Mi A2 was an improvement with 1080×2160 and an 18:9 ratio. Both of these displays were IPS. It is with Mi A3 that the company decided to take a gamble. Instead of sticking with the IPS display technology, Xiaomi decided to go with an AMOLED display, but the devil is in the details, it is a 720×1560 display with a ratio of 19.5:9.

While the display is more eye-friendly and is much brighter in comparison to the previous models, it is a low-resolution display according to the 2019 standards. Even though a similar resolution display is found in an Apple device carrying two times the cost, it was still heavily criticized by reviewers and users in the comment sections.

Despite all the display drama, I still wanted to make the switch from my Mi A1. It did take me a couple of days to get used to the new resolution, the app icons were particularly blurry. However, after a couple of days, I've gotten used to the display. Colors and overall performance in daylight is satisfying, at least according to my opinion. The only real issue I have with the display is that it tends to be brighter when set to minimum brightness.

If you can notice low resolution on this small display, I suggest you avoid this device. However, for me, this is not a deal-breaker.
SoC Upgrades
These phones are intended to be used for lightweight multimedia app usage and social media usage. This is why Xiaomi decided to stick with the Snapdragon 600 series in all three models. The Mi A1 packs Snapdragon 625, a mid-range CPU. It was a great chipset that performed as intended, I had a smooth experience using it for a whole year. There were apps where it noticeably lacked raw power, but I knew what I was getting into when I bought the device.

Mi A2 received quite an upgrade when it came to the chipset. It featured a Snapdragon 660 with a higher CPU clock and better GPU. This small bump provided a bit snappier experience for the device while it is was also battery-friendly. I think that this was the right direction for these series.

Like with the display, the company has made an interesting decision when picking a chipset for the Xiaomi Mi A3. While everyone was expecting a Snapdragon 730, a new mid-range chipset, the company decided to go for a similar chipset to the ones found in the previous iteration, Snapdragon 665. The benchmarks showed similar performance compared to the previous generation.

I can tell you that the only problem I have noticed with the performance was slower waking time sometimes. In general, Mi A3 resembles in performance to the models of the previous generation. While this was enough for me, it might not have been something that other users were expecting. When you take into account that the device was more expensive on launch than Mi A2, a chipset improvement was rightfully expected.

We are yet to see what the company has planned for the next generation, hopefully, it is going to be a better performance upgrade.
Battery Life
This is one of the reasons why I love the Mi A series. I don't like having to charge my phone every evening. It is why I always pick devices with 3000+ mAh. The Mi A1 featured a 3080 mAh battery. The Mi A2 a 3000 mAh battery while the Mi A3 now features a 4030 mAh.

When it comes to the Mi A1 and Mi A3, I have personally managed to consistently get around 5-6 hours of screen on time. Furthermore, I charge the phone every 40-48 hours. I don't know about you, but that means a lot to me. Remember though, I am a moderate smartphone user. Using the phone more consistently will drain its battery faster.

My brother, who has been using the Mi A2 for over a year now, says that Mi A2 offers a similar battery performance.

Battery performance is something I have found to be consistent throughout all three models and I personally like it very much. Oh, I would also like to mention that I keep my location and 4G turned on at all times. As you might now, keeping these turned on causes additional stress to battery life. Despite that, the battery still holds up well.
Cameras
A camera is an important part of every smartphone. It is also one of the things that suffer first when companies make budget smartphones. The situation is the same as the Mi A series as well. However, there is a noticeable improvement in picture quality over time. 
Mi A1 device featured two cameras on the back of the device. Both were 12 MP sensors, one wide and one telephoto. These cameras created soft images in great lighting conditions and performed awfully in low light situations.

The Mi A2 also features two cameras on the back of the device but in a different setup. One sensor is 12 MP, while the second sensor of 20 MP. The higher pixel count improved image sharpness and it gradually improved the image quality. Even though the lower light images look better, they are still low quality.

Mi A3 improves on the previous generations. There are three camera modules present with the latest model. The primary wide camera features 48 MP, an ultrawide 8 MP one and a 2 MP camera for depth calculation. A lot has improved when it comes to image quality in the latest generation, however, don't expect miracles. Compared to premium device image quality, this one is noticeably lower.

The selfie cameras were also improved in every generation, the first one features a 5 MP sensor, the second one a 20 MP sensor while the third one comes with a 32 MP sensor.

See the image comparison below, you will surely notice some difference. These were all taken with primary back cameras.

Concluding Thoughts – Overall Performance
Being a moderate user, I am satisfied with the Mi A3 as I was with the Mi A1. If you are a casual user who browses social media and watches YouTube videos, you will find what you are looking for with this range of devices.

On the other hand, if you are planning any gaming adventures, it is a much better option to get a device with a more powerful chipset. This one will run some light games, however, don't expect any amazing performance in more demanding games.

The good thing is that the device features a 3.5mm jack, however, it is a bit lower quality than that found in the Mi A1. The Mi A2 does not feature a 3.5mm jack, something to keep in mind.

As far as I can tell, Xiaomi has so far taken some steps forward and some steps back. I sincerely hope that the Mi A4 is going to be a step in the right direction. The device would be a much better value with a better chipset and display. Maybe that is what the next model is going to have better. We can only hope for the best.

I hope that you have liked this Xiaomi Mi A series comparison. What do you expect to see in Xiaomi Mi A4? Share your thoughts in the comment section below.